Josh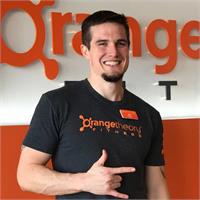 Coach Josh started with Orangetheory Fitness in January of 2016 in Palo Alto, California. Before going to California he was a school teacher for 5 years. Coach Josh participated in football, tennis, and swimming throughout grade school and college. Josh has a bachelor's Degree in Exercise Science, and a Master's degree in Educational Administration from the University of Mary Hardin-Baylor. Josh loves sports and The Dallas Mavericks and occasionally the Dallas Cowboys. Josh enjoys fried food of all kinds, loves apples, and will never say no to a Twix bar. A perfect morning to Josh is a nice cup of plain black coffee, on a cool morning, sitting on his porch. Josh enjoys helping others set and obtain goals in order to challenge themselves on a daily basis. He has a passion for fitness, and hopes to help lead members into a long lasting healthy lifestyle.
WHAT DO YOU BURN FOR?
I burn to make those around me better
WHAT'S YOUR GUILTY PLEASURE?
Fried foods of all kinds
WHAT'S YOUR FAVORITE OTF EXERCISE?
Ultimate burpees
Josh is currently not instructing any classes.